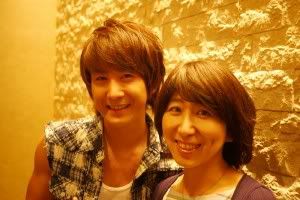 Kibum, the ex-member of U-KISS came to Japan for his older brother, Hyung Jun's, concert and I had the chance to meet him and get an interview for this blog.
Ah, he's a lot more good looking in person than he is in pictures!
Last year, I had chances to take interviews in U-KISS' press conferences or fan events but because there were a lot of members, he did not stand out, but this time when I tried to look at him, I thought that he is a person who gives of a sparkling flowers aura. His eyes and his smile that becomes like a cresent moon are cute! The gentle atmosphere that surrounds him makes his surroundings peaceful.
A person of appropriate actions, when my (ordered) food was late and wasn't coming, by saying worryingly, "It's kinda sad (lonely)!" and turning his head around quickly, with his humour, he is a person whom making a dialogue makes the place fun!
He is someone who keeps an eye open to a lot of things, he's witty and I think he has the spirit of leadership. But most of all, I was surprised by his ability in Japanese! It seems that he studied on his own by watching Japanese TV programs but having advanced up to here (this level)...
According to him, lately, he's been getting progressively better and he's fluent.
When he was in kindergarten, he lived for 3 years in Australia and he can speak English. He has a sense of foreign languages, as it seems.
His mother was with him and when she said, "Even in school, he had the best grades!", Kibum answered shyly, "Mom, why do you say those things? Foolish parent!" When he said that, mother and son, while smiling, had a conversation. I understand. With such a good son, I'd be bragging too. His mother, too, when she was young, used to be a CM model. She was a cute person with big and pretty eyes.
Kibum, with his big brother, Hyung Jun, have a character company with a character that has Piro Piro (black circles) under his eyes and it's unique. I asked since when did they have an interest of doing that (owning a company) and he told me that he liked characters since he was little and when he was 17, he thought of doing it himself so he got a company license and started making characters.
This Kibum-san, has decided on his Japanese management agency, and from now on, he is going to have vigorous activities in Japan as a talento. His stage name is decided as "Allen". And this year, from the 20th of October to the 25th, he is going to appear at the New National Theater (Shin Kokuritsu Gekijou) in the musical "Shounen yo daishi wo dake" [Youths! Embrace the big paper] which is about passionate youths drawing their lives with calligraphy (shoudou). Last year on November, Park Jungmin appeared in this musical and it created a sensation. This stage made new arrangements and it's going up again and Allen was selected to become one of the 5 pretty boys that are this musical's axis.
The next time he is coming to Japan, it seems that he is going to meet his co-stars. It is the first time he is challenging a musical and it looks like that even now he is nervous.
Before this stage, he is going to be the MC of the 'K-Pop Music Festival in Kagoshima' on the 10th of September. This MC is going to be his first solo activity and challenge in Japan.
We had a level-headed conversation, but he is still a young 20-year-old. I am looking forward to his activities from now on.